I've found three simple rules that ensure wonderful Italian cooking.
Fresh
Fresh ingredients make the best food. Visit the market every day. Preferably an open air market.
Local
Local ingredients are a must. This of course ties into the first rule. It's much easier to buy fresh, when it's been raised/grown just down the street.
Just like nonna (grandmother) made.
Tradition is key. Years of experience, passed down by nonna, who got it from her nonna. Don't mess with it. Otherwise, you might get spaghetti and meatballs or a pineapple pizza. Not good!
Start with these three rules, and the rest is easy. The first two, anyone can adopt. A commitment to fresh, local ingredients will produce better food for any cook. The third?
What if your nonna wasn't an Italian nonna? What if you didn't grow up close to your extended family? My suggestion: Prepare a dinner with a nonna. It doesn't have to be yours. Any nonna will do. Talk, cook, and learn.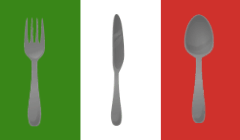 enjoy love their food (and their nonna).