I like sausage. It was in Emila Romagna, the region commonly reputed to have the best food in all of Italy, where I first experienced the best I'd ever had. I was staying with a wonderful friend Angelo and his family. Angelo is the proprietor of a fabulous restaurant – Scanabecco. On the morning of my second day, I came down to the restaurant about 8, where there was a continual parade of friends and customers coming in for an espresso and a pastry – a traditional Italian breakfast. Angelo interspersed serving with conversation and prepping the kitchen for the day ahead.
A delivery driver came and began unloading supplies into the back. This brought a smile to Angelos face. He asked if I'd ever had salsiccia cruda. My Italian being what it was – I knew it was some kind of sausage, but I didn't know any specifics. I replied no I hadn't but, with my appreciation of all things sausage, I'd love to try it.
He sent me into the back where one of the staff had started grinding about 25kg of pork that had just been unloaded. This must be the basis for what I'd be having for lunch.
I was off to hike, explore the hills and villages surrounding Scanabecco. I needed to develop an appetite for lunch. One thing about staying with Angelo, you will not go hungry. There is so much great food at every meal, you must do what it takes to be ready.
On my return I went straight to kitchen. Someone handed me a bottle of sparkling water and a glass of wine. Angelo took a bowl filled with the fresh sausage and tossed in a little olive oil, salt and pepper. Mounds of the sausage were piled onto a long italian roll, and he squeezed half a fresh lemon onto it. He handed it to me, and I looked long and hard. "Cruda", he explained, "means raw."
As an American, you never eat any meat unless it's been throughly cooked. The US government makes it clear that consuming just the smallest morsel will cause irreparable harm. Needless to say, I was hesitant.
By the time I looked up at Angelo, he'd finished half of his. I cautiously took that first bite. It was so delicious. The fresh flavors came forward. The memories of a lifetime of food-safety lectures disappeared. The flavors blended so nicely. I was in heaven. I'd never seen salsccia cruda on a menu before. Surely it must be an illegal delicacy.
A few weeks later I was at another favorite restaurant (I have too many favorites!) – La Lanternina. The owner's daughter Alice (pronounced Aleesha), was explaining some of her favorite dishes, none of which were on the menu. She proudly stated that one of her favorites was – salsiccia cruda. Oh, my, I was excited. I told her of my recent experience. She instructed me to call the day before I was coming next, and they'd prepare it for me.
I returned a week later (having made the call). Alice had made a special trip to her preferred butcher for the salsiccia. It was delicious. I asked her the secret, to which she replied – "Clark – it's simple. Use farmers and butchers that you can trust.". Simple enough.
A few days later, I was craving my recent discovery. The tiny village down from our hamlet has just that person. I approached the counter and requested salsiccia for salsiccia cruda. Their faces looked proud, as they realized that I'd been let into an exclusive culinary club, and that I trusted their product. I took my sausage home and within a few moments I was enjoying my own salsiccia cruda! Deliziosa!
Would you eat it raw?
Here's the recipe.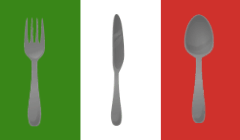 To live dolci vita -
Eatalianos
learn where to apply their trust.